EOS C100 Professional Video Camera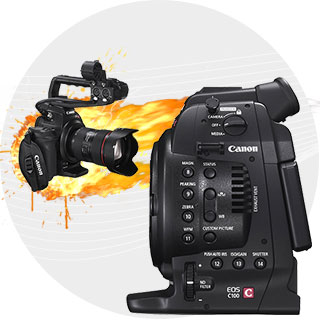 Well, there she is, the brand new/expected C100 – little edition of the C300. for about $8000 youll get all you wanted (bout 2 years ago) from canon. The biggest difference is the non existing PL mount, compared to the old C300/C500. A small step for Canon, a big step for mankind?  🙂 I doubt it, still waiting for Sony´s annoucements on this matter. Well meanwhile check out the web for some first thoughts on C100, like:
Many may be taken aback with the idea of spending $7,999 on this camera at first. But if you stop to think about what you won't NEED to buy – it can actually start to look like the C100 might just be a wiser investment long term. This camera comes ready to shoot. The ergonomics are great so you don't HAVE to have a cage. You don't need to buy an external audio recorder and synching software – this has XLR inputs (and stereo headphone jack as well as levels) with the handle.
Canon today launched the much speculated Canon C100, the budget version of the C300. Initially set for a price under the Sony FS700 (around $8000), the camera is double the price of a used FS100 but features built-in ND filters and the same sensor as the C300. The design and handling looks fantastic, it is even smaller than the C300 (by some 15%) but the major compromise is the codec which is now AVCHD at 24Mbit 4-2-0.