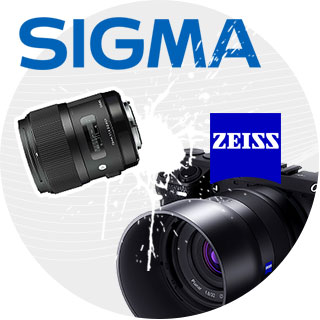 Quite a few new lens announcements from Sigma, Zeiss/co:
With a bang, Carl Zeiss is introducing a new family of autofocus lenses for mirrorless system cameras at photokina 2012. All priced at around 1.000 Euro. Finally this system is going to have high quality prime lenses. The first three lenses are the 12mm f/2.8, 32mm f/1.8 and 50mm f/2.8. These are autofocus lenses(!) with support for all camera functions. The lenses are designed to cover the APS-C circle and not  for FF NEX cameras like the Sony NEX-VG900.
Zoom lenses are an option that is still being considered by Zeiss.
Sigma Announces Three New Lenses: 35 f/1.4, 17-70 f/2.8-4.0 OS & 120-300 f/2.8 OS. They will be released for multiple mounts, including alpha and EOS. Sony itself did announce two new A-mount lenses "only". But other companies are announcing many new A.mount lenses.
Sigma 17-70mm F2.8-4 DC OS MACRO– This new Contemporary lens is designed for cameras with an APS-c sensor and covers a range equivalent to 25.5 to 105mm on a 35mm camera. An upgrade to its predecessor, which was released in December 2009, this general purpose lens offers a new design and a more compact build.
Sigma 35mm F1.4 DG HSM– This Art lens provides photographers with a state-of-the-art alternative to the more conventional 50mm. This lens' axial chromatic aberration is minimized, which renders a cool and smooth out-of-focus image. At low apertures, it can perform like a wide-angle lens; when opened up to F1.4, it will provide background bokeh and make the subject pop like a mid-range telephoto lens.
Sigma 120-300mm F2.8 DG OS HSM – With redesigned mechanics and performance, this Sports lens is an update from its predecessor released in February 2011. This high-performance lens eases difficult shooting conditions by offering a maximum focal length of 300mm and a wide-open aperture of F2.8. This lens, like the other Sports category lenses to come, is dust and moisture resistant, and allows users to adjust the focus speed and the focus limiter via a button on the lens.
Four new Schneider lenses for Sony
85 mm/2.4 Makro-Symmar
28 mm/4.5 Super-Angulon Aspheric
35 mm/1.4 Xenon
50 mm/1.4 Xenon