Tim Burton´s Frankenweenie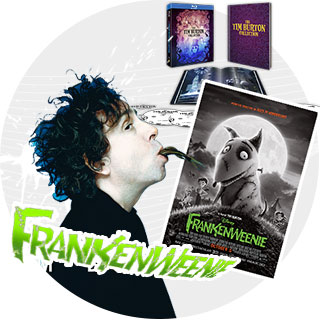 Frankenweenie (5. October 2012 – USA)
Just days away from its world premiere at Fantastic Fest a new clip has arrived from Frankenweenie, director Tim Burton's tale of a boy and his undead dog. By this point people should be well aware of the history of Burton's long gestating labor of love – the film being a stop motion animated expansion of a previous live action short – so we'll just cut right to the chase. Check out Frankenweenie – Official Featurette.
The Tim Burton Collection
Tim Burton is one of Hollywood's most distinctive movie directors over the past 25 years. His visually arresting films take viewers to fantastical worlds and warped realities filled with twisted characters that range from the quirky to the macabre. He also has a knack for creating box office bonanzas.
Each film comes with its own special features, which include commentaries by Burton, additional scenes, theatrical trailers, music tracks, and behind-the-scenes looks at how the movies were made. The set also comes with a 64-page hardcover book with an introduction, trivia, photos and sketches from the movies.